Farma Grow Phosphate Rich Organic Manure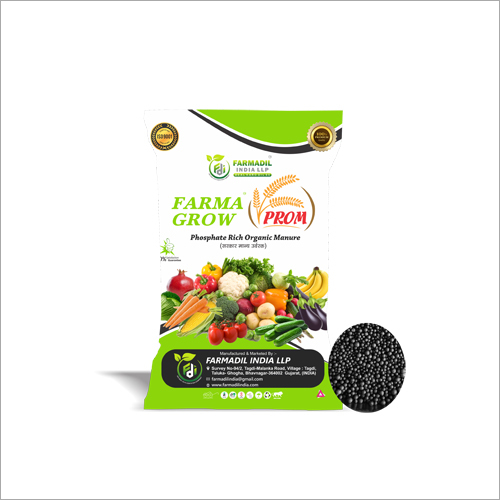 Farma Grow Phosphate Rich Organic Manure
Price And Quantity
Product Specifications
Black

Cool and Dry Place away from Direct sunlight and Children
Product Description
PROM-Phosphate Rich Organic Manure
Introducing FARMA-GROW PROM, a high-quality and sustainable phosphate-rich organic manure designed to boost crop growth and improve soil health. With its unique composition, FARMA-GROW PROM serves as an excellent alternative to traditional chemical fertilizers like Diammonium phosphate and single superphosphate.
Benefits of the FARMA-GROW PROM:
Enhanced Nutrient Absorption: The balanced nutrient composition facilitates efficient nutrient uptake, promoting healthier root development and resilient crops.
Sustainable Soil Health: Unlike synthetic fertilizers that can acidify soil, PROM maintains pH levels, supports beneficial soil microorganisms, and enhances long-term soil fertility.
Reduced Chemical Dependency: Its slow-release properties provide a steady nutrient supply, reducing the need for frequent applications and minimizing chemical usage.
Standard Quality: FARMA-GROW PROM meets FCO, 1985 specifications, ensuring a perfect balance of nourishment for robust growth and bountiful harvests.
Content Percent by weight
Organic carbon, Min. 10%
Total Phosphates, Min. 8%
Total Nitrogen, Min. 0.4%
C:N Ratio: 20:1
Granule Size: 3-4 mm Round
Improved Microbial Activity: It enhances the activity of beneficial microorganisms in the soil, promoting better phosphorus dissolution.
Eco-friendly: A complete eco-friendly product that improves resistance against diseases and enhances germination percentages.
Suitable for All Crops: Ideal for annual, biennial, and perennial crops, including vegetables, fruits, grains, and ornamental plants.
Usage/Dosage: Apply 50-60 Kg per acre or as per crop requirement through soil application.
Packing Options:
FARMA GROW PROM Brand Name 50 Kg Multi-Color Printed Bag
Plain Non-Branded Loose 45-50 Kg Bag
Customizable packaging as per customer requirement
Brand Name: FARMA GROW PROM
Minimum Order Quantity: 10 Tons
Delivery Time: 4 Days
Trade Information
Cash Advance (CA) Cash in Advance (CID)

100 Per Day
2 Days

FARMA GROW PROM Brand Name 50 Kg Multi-Colour Printed Bag Plain Non-Branded Loose 45-50 Kg Bag Customizable packaging as per customer requirement
Nagaland Dadra and Nagar Haveli Chandigarh Himachal Pradesh Pondicherry Daman and Diu Lakshadweep Delhi Gujarat South India North India East India Andaman and Nicobar Islands Andhra Pradesh Assam Arunachal Pradesh Bihar Goa Jammu and Kashmir Jharkhand Karnataka Madhya Pradesh Mizoram Meghalaya Manipur Punjab Rajasthan Sikkim Tamil Nadu Tripura Uttarakhand West Bengal Haryana Maharashtra Telangana Kerala Central India Odisha West India Chhattisgarh Uttar Pradesh All India